Storm Properties starts sales in "Fili Park" residential complex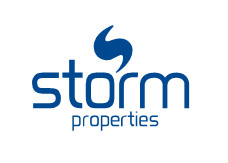 /May, 2016/ Storm Properties starts sales in the business class residential complex "Fili Park", located at: Bagrationovsky pr-d 1A.
"Fili Park" is a 19-storey business class residential complex located directly across Fili metro station and within walking distance of the Fili Park. The project has a total area of 15,300 sq m and is designed in accordance with international standards for space functionality. There are 124 flats and spacious underground parking. Retail premises, as well as a café and a children's center will occupy the ground floor of the building, all for the comfort of its residents.

Fili Park's modern façade made of natural stone, aluminum and expansive glazing will provide panoramic windows with an abundance of natural light will create a unique look of a high class residential complex. The use of glass and mirrored surfaces of the facade, which reflect the surrounding area, provides a variety of images of the building that will differ depending on the weather, time of day and season, and set its individuality and the emotional appeal. All the apartments in the residential complex will have excellent views. Future residents need only choose the preferable panorama: view of the "Moscow City", Poklonnaya Gora or Filevsky park.

Babur Diker, CEO, Storm Properties, comments: "We are pleased to present our new residential project to the market. An elegant residential complex located just a few minutes away from the city center is an ideal choice for those who are not willing to compromise. The high quality of the materials and finishing together with quick completion schedule will allow customers to move to a new home within the shortest possible time and avoid the inconveniences associated with fit-out works."

Flats with an area from 27.5 to 203 sq m will be offered for sale fully finished. A minimum budget for purchasing of studio flat of 27.5 sq. m is 6.7 mln RUR, one-room apartment - 11.6 mln RUR (56.1 sq m), two-room - 18.4 mln RUR (60 sq. m), three-room - 23.1 mln RUR (87.8 sq. m), four-room - 40.5 mln RUR (118 sq. m). A two-level apartment of 156.5 - 203 sq m, and a luxury penthouse of 311.5 sq m will be also available for sale.

"Fili Park" is a unique example of a residential complex that was designed in accordance with a Western approach", - says Maria Litinetskaya, Managing partner of "Metrium Group". This is one of the few business-class projects offering flats with a high quality design and on fully fitted-out basis. Most of the project still deliver "shell and core", forcing customers to spend their time and money on expensive finishing work. Panoramic windows overlooking the Moscow City Towers, spacious terraces - each detail corresponds to the best examples of Western residential complexes. I am sure that this new project will be interesting not only to customers, but will also become a future architectural dominant of the whole district. Such projects as "Fili Park" radically change the face of the city and will soon become the nucleus of a new modern high-grade district, where the cost per square meter will grow after the date of the complex. Hence purchasing flats in such residential complexes is, of course, a winning strategy, even for purchase as an investment".

Sales are carried out in accordance with the Federal act 214. Construction permit has been obtained and works started. Full completion of the project is scheduled for 2018. "Metrium Group" is the exclusive agent for the marketing and sales.
Storm Properties, founded in 2005, is one of the leading real estate developers of Moscow combining an international team with an unrivalled knowledge of the Russian market.
Specializing in all aspects of real estate development, investment and asset management, Storm Properties is committed to delivering returns for its investment and development partners through maintaining the highest standards across its diverse service portfolio.
Our core team has worked together for the past 10 years and has over 50 years" commercial experience in total. We have successfully overseen the development of over 1 mln sq m of property across various classes and have won a number of prestigious real estate industry awards. Storm Properties is the first Russian developer certified in accordance with the international standards for quality management systems ISO 9001:2008. In 2014 Storm Properties became a member of the Green Building Council (RuGBC).



Metrium Group is a real estate consultant specializing on Moscow and Saint Petersburg residential markets. The company is in top-3 by sales volume on the primary residential market. In 2015 the total sales managed by Metrium Group reached almost a half mln square meters.
The total real estate portfolio of the company is around 6.5 mln square meters with about 40 thousand square meters traded per month.
Four joint ventures have been established with Metrium Group participation, which is absolutely new model of large scale sale process that is being implemented by our company. Metrium Group is also introducing on the Moscow region market an automated on-line sales management system NMarket.PRO.
Metrium Group is a strategic partner of JSC Sberbank Asset Management: advising on feasibility and marketability of real estate projects, arranging sales process. Apart from that Metrium Group is an investor o the three closed mutual real estate funds launched by Sberbank Asset Management. At the moment total assets of all three funds exceed 6 billion rubles invested in new construction of Moscow region.
Contacts:

ООО "Storm Properties" ("Сторм Пропертиз")